---
365 Days Of Gratitude. Your daily program of thanks.
DAY 90 Today we are thankful for the many moments in my life.

You have heard much about the ideas about living in the now!
This could take you a few days to think about and practice but what would happen if you were living gratitude in the now?
Living in the Now!
Prior to Eckart Tolle's book a New Earth, his landmark book was Living In The Now. The concept while on one hand being very profound, on the other was very simple. Start to examine the dialogue of your inner mind or inner voice, listen to where those thoughts take you…. and begin to determine whether those thoughts actually pull you into the past or the future.
Governing Our Thought Patterns
Much of our thinking continually draws us to past times in our lives. Triggers such as people getting mad at us, feeling hopeless, a visual cue of an old car, someone who looks like an old boy friend or girlfriend, a place where you have been, or sometimes simply when one thought leads to another. One powerful time tunnel memory triggers is actually music. It's almost like you have no choice, but once you hear that tune from the Summer of '69 (Bryan Adams), or the Summer Of Your Life… those Lazy Hazy Crazy Days Of Summer (Nat King Cold) or that first date song (Open Arms by Journey), or insert your song(sssssssss) here, you don't have a choice…. boom your mind has been hijacked….. and off it goes no matter what you were doing, who you were with or what you were saying…. all of a sudden your mind is off in never never land. Seeing your old school or college or place where you lived will do this and surprisingly enough, your biggest memory trigger is actual aroma… your sense of smell, though it likely doesn't hi-jack you as much as music. I'm sure many of us have recently gone on a journey with one or another Michael Jackson song being played?
At issue here is really the task to "govern your mind", kind a like riding a horse. Who's in control? You or the horse. Much of this concept is why people are so fascinated by subjects like NLP neuro linguistic programming, as thoughts quite often govern behaviour as well. It has often been said that the human mind is our last frontier.
Gratitude and Living In The Now.
Part of the Posithanks program has simply to be "mindful". The whole issue of thinking and appreciating what's going on around you. Be mindful of your job, friends, the freedom to vote, your health and so much more.
What if we were to try and be mindful and give thanks to everything that went on in our lives?
We become thankful for …..
Another day as we get up
The Air The We Breath,
The health we enjoy
The family in our lives
The wisdom to brush our teeth
Hot water to take a shower
The Clothes on Our back
The news cast to keep us up to date
The song we are enjoying,
The food we are now consuming
The car or bus or bicycle to get to work…
Or jobs, or our ability to look for a job,
Our cell phone we are texting with
Our friends we are in conversation with
Well there's the first hour of your day ! ! !
Can you do it all day… can you do it for four or five days?
Easier Said Than Done.
This exercise WILL be like riding a horse, and most of us WILL get thrown off but previous triggers and scripts…. but the idea is to get back on. Concentration is a subject seldom if ever taught in the western world, however it is one of those subjects we can learn and indeed improve. One method is to simply engage! Ask questions…who what, when where why and how did it come to be and why does it make me feel this way now and how do I show my gratitude?
PIQ Positive Imperative Question. Can you to this for five days? Can you do this for one day. We'll leave this post up for five days and see how you do :>)
Now would be a good time to start writing things down or scrolling down through the Posithanks program for many ideas on many subjects to be thankful for.
Please take the time and share your thoughts and help inspire by clicking here.
+++++++++++++++++++++++++++++++++++++++++++++++++++++++++++++++++++
365 Days Of Gratitude. Your daily program of thanks.
DAY 89 Today we are thankful for being able to think!

Now before you "think" you've got this subject figured out, give it some more thought.
Too often we… enjoy the comfort of opinion without the discomfort of thought. ~John F. Kennedy
Do you know how much time the average person thinks?
How much time does the average person think? Likely this question will have some subjective parts of the puzzle, which needs to include the separation of inner dialogue that continues to regurgitate and recycle scripts that have already been thought of…. essentially like TV reruns, and how much time people spend with new and original thought. Either by systems thinking, cybernetics, creative thinking, cognitive thinking and reflexions or other thinking patterns. Already you might be thinking about how much time you spend thinking.
The trouble with most people is that they think with their hopes or fears or wishes rather than with their minds. ~Will Durant
The overwhelming consensus is we spend no where near the time we should be on thinking. All sorts of stats abound as to facts like we spend two hours a week thinking about food, but again is this real thinking or simply going through past programs and menus.
Most people would rather die than think; in fact, they do so. ~ Bertrand Russell
Few people think more than two or three times a year; I have made an international reputation for myself by thinking once a week. ~George Bernard Shaw
PIQ Positive Imperative Question. How much time do you spend thinking…… are you grateful for thinking…… gratitude for something often reflects good and appropriate use of what one is given.
How much time do you spend thinking about ~ How to change the world ~ your family ~ your relationships ~ your job ~ your purpose in life ~ faith, religion and more? Have you scheduled or put thinking time into your day planner.
Creative thinking is not a talent, it is a skill that can be learnt. It empowers people by adding strength to their natural abilities which improves teamwork, productivity and where appropriate profits.
Edward DeBono
A great web site to start you thinking about what other people are thinking :>) Ted.Com
A web award winner on thinking.
To study the art of thinking, the six hats of thinking, lateral thinking and more google any sites of Edward DeBono or stop by your local book store and check out some of the DeBono books.
Please take the time and share your thoughts and help inspire by clicking here.
+++++++++++++++++++++++++++++++++++++++++++++++++++++++++++++++++++
365 Days Of Gratitude. Your daily program of thanks.
DAY 88 Today we are thankful for teamwork.

There's no one quote that sums up the potential of teamw
ork more than this one.
"Never doubt that a small group of thoughtful, committed people can change the world. Indeed, it is the only thing that ever has."
– Margaret Mead (1901-1978), Anthropologist and Writer
It is perhaps the most important skill a person can learn and understand.
Occupations and jobs.
Some occupations have by their very nature mastered the need for teamwork. Firefighting, Police Work, medicine and the military have all studied the are of teamwork as by the very nature of their work lives depend upon it, in almost all aspects of their work. Other occupations like construction and transportation depend on team work to run the business. Some professions like politicians has been much more open to debate on the consistency of teamwork though at different times and situations like Obama's recent win there's little doubt in their effect in the outcome.
Sports and Leisure
Individual commitment to a group effort – that is what makes a team work, a company work, a society work, a civilization work. ~Vince Lombardi
Many team sports make teamwork essential to their game, be they football or baseball. Other two player sports like volleyball and tennis rely on teamwork for their success as well. In fact everything from auto racing and their pit crews to sailing depend upon teamwork in order to have things run smoothly.
Teamwork and Ego.
In a real wilderness or urban survival situation that might require teamwork, ego has no place – Survival Camp motto.

Many parts of society depend upon teamwork for their success such as not-for-profits and volunteer work. Many times the biggest obstacle to overcome in successful teamwork is the ego. The who's in charge, who tells who what to do and the always present who gets the credit.
Ten Tips For Effective Teamwork and Team Building
PIQ Positive Imperative Question Have you participated in a successful team. Have you thought about or read about how successful teams work? Have you had a team make a successful impact in your life and remembered to thank them. Especially those team members not in the limelight?
Please take the time and share your thoughts and help inspire by clicking here.
+++++++++++++++++++++++++++++++++++++++++++++++++++++++++++++++++++
365 Days Of Gratitude. Your daily program of thanks.
DAY 87 Today we are thankful for American's that do us proud! Happy 4th Of July…..Independance Day !

A country is in one sense its people. The best way to celebrate Independence Day is to celebrate some everyday American heroes.
What a great way to celebrate America in the truest sense of the idea. To remove walls, barriers and ignorance in the world, replace it with acceptance and love. Be inspired by this story!
Carolyn Manning started the Welcome to America project in order to welcome refugees to the Phoenix Arizona area every week. She is a local every day American who sees an opportunity to make a difference and has created an Aultracause in order to provide refugees a support system and make them feel welcome from a world with no hope to a world of hope.
The Welcome to America Project, an organization, collects high quality furniture and household items from donors throughout the Phoenix area, and delivers them every Saturday to refugee families arriving from war-torn and oppressed countries worldwide. Since 2001, WTAP has furnished the apartments of over 650 refugee families with over $700,000 of in-kind donations, logged over ten thousand volunteer hours, and won numerous awards for its grassroots, volunteer efforts.
Cudos to CNN for some great Positive Jornalism, and their on going feature Local Everyday Heroes.
www.wtap.org For more information on the project contact Carolyn Manning carolyn.manning@wtap.org or call 602.490.0088 #5.

PIQ Positive Imperative Question is there a Altrucause you can get involved it? What's an Alturcause…. it's our new Posiword of course.
Please take the time and share your thoughts and help inspire by clicking here.
++++++++++++++++++++++++++++++++++++++++++++++++++++++++++++++++++++++
365 Days Of Gratitude. Your daily program of thanks.
DAY 82 Today we are thankful for trees

There are not to many things more obvious to be thankful for than trees. We see them every day, but most days we don't pay them a moment's consideration.
Have you ever thought where we would be without trees?
Well the answer to that is pretty obvious, we wouldn't be! Without trees from the rain-forest to the northern mixed forests, planet Earth wouldn't be sustainable for humans. So beyond the obvious why should we be thankful for trees?
In the movie Lord Of The Rings, it may come as no surprise that trees were made out to be mankind's friend. For me, trees have always been my friend. The symbolic nature of providing us shade from the elements as a protectorate is not only true, but also a subtle reminder of our interdependent we are in this fragile ecosystem.
Forests provide us both wonder and wood. From the early days of log cabins to much of our furniture and all the paper we read and write on there are few hours in our lives that we are not touched by the nature of trees. For at least one country on planet earth, Canada, the leaf of it's most famous tree gives rise to it's national identity and one of its most historical hockey teams, the Maple Leaf. As a youth the Willow Tree was my favourite as one of the easiest trees to both climb and swing from, it's also one of the most majestic of all trees.
As we often say in Posithanks, the whole idea of the program is to not only be thankful for the things we take for granted, but as we do, the notion of living in the now also takes in new context as we appreiciate the things around us in the moments of life called now.
PIQ Positive Imperative Question. How often do you think about trees and the countless blessings they provide us? Will you remember to thank a tree today? You'll be glad you did.
Please take the time and share your thoughts and help inspire by clicking here.
++++++++++++++++++++++++++++++++++++++++++++++++++++++++++++++++++
365 Days Of Gratitude. Your daily program of thanks.
DAY 81 Today we are thankful for "altrucauses" such as Bicycles Without Borders.

Behind every cause is usually one individual. There's also usually a problem and a significant need. Quite often there's an every day name of a person you have not heard of like Candy Lightner or Mike Brcic.
The next thing that happens is quite remarkable, but also very simple. Do you know what that is?
Individuals like Candy Lightner who started Madd upon the tragic death of her daughter chose to respond to make a difference, other people like Mike Brcic did not have something tragic fall upon their lives, they just saw a need and then committed to do something about it. The common denominator of people that start causes is they take action and act upon the need, and they feel so strongly about the need that their passion enrolls many people in the possibility to make a difference.
Both causes are great and respond and certainly have the characteristics of caring about your fellow human, however Ultrucauses (Yes of course it is another "new Posiword :>) ). are born not because ones life has been adversely affected by the problem (as is the case with Candy Litner and many others) but moreover, there was virtually no specific impact on the cause creator other than the seeing the need and having the alturism to "do something about it".
Mike Brcic is another Canadian who the CBC selected as making Canada Proud. (Their story, more great positive journalism..cudos to the CBC News Teams).
Mike Brcic was travelling abroad when he learned of a child walking two hours to and from school and simply thought to himself… hey a bicycle would make all the difference is this child's quality of life. Well you know what happens when an entrepreneur sees and opportunity and has the Posivalue of the Love of humanity, amazing things can happen.
PIQ Positive Imperative Question. It is great when people respond to causes because their lives have been affected adversely because of the cause, and it's only natural that often times people align themselves with the cause, ie: their family member has CF, MS, MD, or Cancer then that becomes their primary vehicle for giving back. However what about situations where there is no close family member aflicted with a problem or you are also not affected by a problem directly. Does that mean it's easier to sit on the sidelines and do nothing? Is there a part of the world you feel passionate about. Is it Africa, is it children, seniors or simply your neighbourhood community? Where can you get involved…..what's your "autrucause"?
Please take the time and share your thoughts and help inspire by clicking here.
+++++++++++++++++++++++++++++++++++++++++++++++++++++++++++++++++
365 Days Of Gratitude. Your daily program of thanks.
DAY 80 Today we are thankful for Canadian's that make us proud! Happy Canada Day!

A country is in one sense its people. The best way to celebrate Canada day is to celebrate some everyday Canadian heroes.
Dr. Chandra Sekhar is just such a person. He endure the ultimate tradgey and makes the ultimate contribution.
We are always amazed when everyday people to extraordinary things. We are in awe when people over come adversity to do extraordinary things. After living through the ultimate tragedy of losing his family, Dr. Chandra Sankurathri has spend the next decades of his life honouring his family and responding positively to the world's challenges.
Dr. Chandra Sekhar Sankurathri established a registered charitable foundation, Manjari Sankurathri Memorial Foundation (MSMF) in Ottawa, Canada in 1989. This foundation is in loving memory of his wife, Manjari Sankurathri and two children Srikiran (7 yrs) and Sarada (4 yrs) who were killed in the Air India (Kanishka) disaster on 23rd June, 1985, off the coast of Ireland. The Foundation has taken the mandate to promote rural community development through education, health care and disaster relief programs.

I
nstead, day after day in his corner of India, Chandrasekhar Sankurathri is changing a seemingly unchangeable history of illiteracy and blindness. And along the way, he has made sure that the names of his family will live on. His wife Munjari, and little Sarada, and Srikiran, God's ray of light. For The CBC Story and six more Canadians that makes us proud…click here. Our tip of the hat to some great journalism from CBC News! Positive News what a great thing indeed!!!

His next step is to take all the good work he has done and turn it into a self sustaining foundation. You can contribute here.
Contact information:
23 Mary Drive
Gloucester, Ontario
K1V 1G9
Phone: (613) 523-5413
e-mail: info@msmf.ca
website: http://msmf.ca/
PIQ Positive Imperative Question. How to you celebrate Canadians that make us proud! How to you make people that inspire you a part of your gratitude and consciousness? What steps are you taking to do this?
Please take the time and share your thoughts and help inspire by clicking here.
++++++++++++++++++++++++++++++++++++++++++++++++++++++++++++++++++
365 Days Of Gratitude. Your daily program of thanks.
DAY 79 Today we are thankful for both receiving and giving compliments

Compliments are a driving force of Positivity. They can brighten your day and lift your spirits. Well worded compliments can also have the ability to inspire and encourage better performance.
Why then do compliments quite often lead to negativity?
A ray of sunshine, or a dark cloud?
If compliments are so positive, what's all the fuss about? There are two situations when compliments can become a negative. Firstly when the compliments are simply not sincere and little or no thought was put into them. Compliments like "Nice Tie" can actually come off sounding negative sarcasm or at the very least like an insincere apology… meaning I can't find anything more substantial to compliment you, so I'll use the stereotypical "nice tie" to get quickly over pleasantries.
The second instance where the wind of positivity is drawn out is when they are deflected. We are often taught that compliments accepted are the opposite of becoming humble and moreover are really in the ballpark of being boastful and ego and head swelling. Sadly this deflection is actually like rejecting a present making the giver of the compliment seem like they made a mistake or that they might have been foolish for making them in the first place. In many cultures it is actually looked upon as rude to reject a gift for any reason.
It's no big deal or It was nothing.
The most often used deflections of compliments are It's no big deal or It was nothing. Both of which play the humility card. The good news is that you can actually learn how to receive compliments graciously and and with thanks and thus return the gifts. Accepting compliments is not only sharing in positivity, but also giving a gift back to the sender of both appreciation and value to their sharing.
PIQ Positive Imperative Question.
Do you give out sincere compliments often when they are warranted? How often do we miss the opportunity to hand out compliments simply because we are not "present" to the opportunity. On the receiving end do you accept compliments graciously and with gratitude?
Please take the time and share your thoughts and help inspire by clicking here.
+++++++++++++++++++++++++++++++++++++++++++++++++++++++++++++++++++
365 Days Of Gratitude. Your daily program of thanks.
DAY 78 Today we are thankful for a new week.
A new week is always a chance to get back on track, and continue towards our many important goals.
Why is it so important?
Well the truth of the matter is…. a new week for getting back on track is an illusion just like waiting 'til New Years Eve to make a New Years resolution. Many studies have been done to prove that if you are waiting 'til New Years Eve to lose weight, start exercising, stop smoking, read a book a week you are not as motivated as just doing it… and are much more likely to fail. The truth is that most artificial start points are just that…..artificial… and like artificial flavouring…. don't have the real taste or substance of the real McCoy.
Most goal experts will tell you all the ingreients of good goals…. including the "SMART" formula…. Be Specific, Measure, be able to measure it.. (it's why you fail if you go to the gym and you can't measure your fitness goals, either by inches of stretching, weight lifted, distance run in a certain time. or weight lost/gained, Action or Accountable (depending upon your model) Take Action and be accountable, BE Realistic and Responsible (again depending upon model but is the same as accountable) how are you going to be accountable.. and as far as realistic…think of it as a rubber band holding cards…. stretch to tight it snaps, to lose and the cards fall out (and remember if you have the time and resources NOTHING IS UNREALISTIC as in do you think one person can change drinking and driving laws? Just ask Candy Lightner. Time Frame… put it into a time frame that you either complete it or don't… when you don't it's the easiest way to kid your self that you're still on the journey to complete it… when you have long abandoned moving towards is.
For many of you, you will already have all that so the real issues it to start now. Monday is a great day to do it. Momentum is everything. When you're off your horse you rationalize it's easy to stay off 'cause you just did this or that thing wrong and another won't hurt. By the same token when you're on your horse and you just had a long workout it's easier to stay away from junk food for the same reason.
So…. go out and just do it and do the same for tomorrow…baby steps. Take the first step now.
A New Day ~ Celine Dion (excerpt)
I see a light in the sky
Oh, it's almost blinding me
I can't believe
I've been touched by an angel with love
Let the rain come down and wash away my tears
Let it fill my soul and drown my fears
Let it shatter the walls for a new, new sun
A new day has…come
PIQ Positive Imperative Question. The 3 questions of accountability…..What did you know (Smart goals and starting now). When did you know…you know now… and What Are You Going to Do About It?
Please take the time and share your thoughts and help inspire by clicking here.
+++++++++++++++++++++++++++++++++++++++++++++++++++++++++++++++++++
365 Days Of Gratitude. Your daily program of thanks.
DAY 77 For obvious reasons we are devoting a whole weekend to be thankful for Michael Jackson as a humanitarian he did more than most people ever have.
One less soul to Heal The World and to remind us that to the Man In The Mirror it doesn't matter whether we're Black or White, but thankfully his music still will. ~ V.S.
"In a world filled with hate, we must still dare to hope. In a world filled with anger, we must still dare to comfort. In a world filled with despair, we must still dare to dream. And in a world filled with distrust, we must still dare to believe." ~ Michael Jackson

I have unquestionably spent more time both listening to and playing Michael Jackson's music for others than any other music artist. How did that come to pass?
As a kid and teen my Michael Jackson fandom started as a fan of Motown listening to I'll Be There, Ben and all his Jackson Five hits like ABC. As I grew up and got into DJing at Clubs I played more than my fare share of his 12 Inch singles like Enjoy Yourself. Later as a DJ for corporate functions and weddings I played Billie Jean and The Way You Make Me Feel for years, and of course programing radio stations in both the Adult Contemporary and Pop Rock formats is scheduled 40 years of his music literally hundred of times a week for the better part of 18 years. His music would always come up in our top 300 all time countdowns, quite often in the top ten, in our #1 Hit Weekends and or course our Motown weekends as well and of course scheduling Thriller every Hollow e'en. I would hazard a guess but I have likely listened to 4,000 hours of his music and played it for hundreds of thousands of people. Of course none of that occurred to me until now. Now that he's gone.
"And my goal in life is to give to the world what I was lucky to receive: the ecstasy of divine union through my music and my dance." ~ Michael Jackson

So….. out of that, what am I most thankful for. I suppose like anyone else years of great music and watching his amazing dancing or incredible videos. However when I really stop and think about it, there are really three vivid memories I have that will be inextricably linked to his music. In chronological order they would be roller skating to many of his 70s tunes in particular Shake Your Body and crossing my feet every time the song went to on each beat of "Let's Dance….Let's Shout…Shake Your Body On to the Ground" Jumping to my third memory it has to be watching my son-in-law Josh Hamilton do the moon walk, but my favourite memory comes out of his legacy…..as I use to dance with my children in my arms when they were babies to We Are The World… for hours. Having said that there are another hundred flashbacks that hi-jack my mind like when I did club work for the Scropio Lounge at the Ramada Inn and everytime I played "I Wanna Be Starting Something" I would completely light the dance floor when the song got to the yeh ha!
I hope people don't remember and talk about Michael Jackson in the context of Neverland Ranch, holding a baby over a balcony or any of the other simple minded things he did, because at the end of the day that's what they were, though some of the truths may never be fully known, I for one have always believed that Michael never had a mean bone in his body, and would never hurt anyone. He was moreover an example of a perfect Greek Tragedy. A man who wanted to remain an experience life in the world of innocence for the childhood he so sadly missed.
And I remember going to the record studio and there was a park across the street and I'd see all the children playing and I would cry because it would make me sad that I would have to work instead. ~ Michael Jackson
What I will remember him for is his contribution to our world and the many Positive and Motivational songs he sang one of my all time favourites being Heal The World. (For a list of more of my fave positive songs go here.).
"If you enter this world knowing you are loved and you leave this world knowing the same, then everything that happens in between can be dealt with."
One the one hand I'm sure I will remember and be thankful for Michael Jackson and his many classics that he left us and songs like Billie Jean, which I will Never get tired of. History has a way of putting things in perspective, and I sincerely hope that will be the case for Michael Jackson, for as a musician who impacted humanity there is less than a dozen singers who would be in the same class and had the same impact as Michael, Bono being one of them.
We Are The World is an historical song in music history with no equal.
Michael co-wrote We Are the World with Lionel Richie (another of my fave artists) which simply put is an historical song and in music history has no equal. The legacy of the songs has never been touched by another. The super group known as USA For Africa (United Support of Artists for Africa) accumulated some of the biggest singers in music history, collectively having hundreds of #1 singles and selling over a billion records. The considerable profits of over 100 million went for the relief of famine and disease in Africa. USA for Africa also held a benefit event, Hands across America which approximately seven million people held hands in a human chain for 15 minutes along a path across the mainland United States at $10 per person.
As well as the great dancer, moonwalker and singer/writer extrodinaire, I hope Michael is best remembered as a humanitaran.
If Michael Jackson was granted one wish…. he would Heal The World
What he did try to do… Make It A Better Place For You & For Me…. and for that we are eternally gratefully grateful.
We hope your pain is over, we hope your joy will remain eternal.
"It seems the good they die too young" (song ~ Abraham Martin & John) ~Dion
Michael Jackson B. August 29th 1958 D. June 25th 2009. R.I.P.
Please take the time and share your thoughts and help inspire by clicking here.
+++++++++++++++++++++++++++++++++++++++++++++++++++++++++++++++++++
365 Days Of Gratitude. Your daily program of thanks.
DAY 77 Today we are thankful for anniversaries.

Without anniversaries we would actually miss showing our gratitude for many things in life, be they the birth of a country, how long a company has been in business, or how long two people have been married.
Do you know what anniversary it is today? :>)
We'll mind of course. :>)
So the pic might have been a hint…. do you think?
So I am thankful for 26 years of marriage to my wife deb. As I sung to her in Karaoke at her birthday….
(yes I really did it, but nobody filmed me thank goodness),
Live is a rollercoaster,….
(Ronan Keating)
We found love, oh
So don't fight it
Life is a Rollercoaster
Just gotta ride it
I need you, ooh
So stop hiding
Our love is a mystery
Girl, let's get inside it
Happy Anniversary!
For three great children and so much more…. thank you Deb for 26 years of happiness!
So now that I've covered that, it's many other people's anniversary today and it's great that they are celebrating that too….. like our extended family Ryan and Jenny Legros.. happy 4th!!!
For everyone else……
…and to all of you out there who have been successful at keeping it together when certain reality tv shows that shall go nameless remind us that it's not easy for anyone, especially if you have 8 kids.
Anniversaries are abundant opprotunities for gratitude.
There are thousands of different celebrations that are anniversaries from countries, to companies to wars, battles and remembrance day/veterans day. Each one with a new opportunity to share blessings and give thanks.
Coming up next week…..
Two Great countries.
In a very few days two great countries will be celebrating their anniversaries. Canada on July 1st and the United States on July 4th. If you're fortunate enough to be close to a border town many communities will be celebrating a third anniversary which is the love of both people for each other in a joint celebration usually called the Freedom Festival, and held on the closes weekend to both holidays. One of the biggest every year is held on the Detroit River on the Detroit Windsor border where the really show their gratitude for both countries and the friendship and bonds between two nations.
Happy Anniversary Canada & The US!
PIQ Positive Imperative Question.
Do you take the time to celebrate anniversaries… and to you really give some thought as to why they are meaningful and why you are thankful? What action will you do to show your gratitude?
Please take the time and share your thoughts and help inspire by clicking here.
+++++++++++++++++++++++++++++++++++++++++++++++++++++++++++++++++++
365 Days Of Gratitude. Your daily program of thanks.
DAY 76 Today we are thankful for the bicycle.
A bicycle is "the" most positive form of land transportation. It is both healthy and environmentally friendly and saves you money. There is a growing movement to regain the road for the bicycle as the premiere transportation vehicle. Is that an uphill battle.. you bet it is… but there are more cities trying to be certified as a platinum biking city.
What's a platinum biking city you ask?
Before I get to the answer the question, I would like to share with you my personal love affair with the bike. My first two wheeler like most people my age had no hand breaks and only a peddle break with one speed. One speed. That's right. And for those of you who know Toronto and Avenue Road hill (just south of St. Clair about an 8 story climb) I could bike up it with no problems by the age of 10 while I followed my brother around with our city of Toronto We use to take a street map of Toronto and tried to fill in every street with and ink overlap and always took at different root so as to fill in a new street. To be honest I don't think we ever did filled them all in, but we did cover the four corners of Toronto and at last look had a good two thirds of it filled in before we moved on to cars.
So my love of cycling continued as I got older culminating to long bike trips to places like Woodstock ON and more recently many different paths along the Trans Canada Bike Routes. Of all the biking I have done by far my favourite has been the 20+ years with my family covering most bicycle paths in the two cities we have lived London and Brampton ON. There is nothing as fun as a family bike ride.
The Leauge of American Cyclists started certifying cities as bicycle friendly starting with Davis California and now going on to larger cities like Boulder Colorado. It's a comprehensive program to certify that a community is completely bicycle friendly and adopts programs like safe biking to school.
Check this video out and you may rethink the bicycle and entertain new possibilities?

PIQ Positive Imperative Question. How often to you bike… or do you even have a bike? Are there times when you could be biking rather than driving? Is it a possible family activity you've been missing?
When do you intend to go on your next bike ride?
Please take the time and share your thoughts and help inspire by clicking here.
+++++++++++++++++++++++++++++++++++++++++++++++++++++++++++++++++++
365 Days Of Gratitude. Your daily program of thanks.
DAY 75 Today we are thankful for our democracies.

Many people in free countries grow up today believing that the right to vote is a given until they are old enough to understand that many countries around the world are still struggling for that right today and that many dictatorships still rule the day, or they encounter their first history lesson and begin to learn the fundamental right to vote has been a battle going on for 2,500 years.
Do you know what country planted the seed of Democracy?
The world Democracy firs started in Greece and meant rule by the people. Democracy in Greece was first introduced in Athens in the year 505 BCE by the Clesithenes.
You could obviously fill many text books with the history of democracy, however for the purpose of Posithanks, we'll use the book ends strategy which started in Greece and more recently culminated in a world wide movement to establish the right for women to vote which as you will see was not that long ago.
"The essence of democracy is its assurance that every human being should so respect himself and should be so respected in his own personality that he should have opportunity equal to that of every other human being to show what he was meant to become". ~ Anna Garlin Spencer

New Zealand 1983
Denmark
1908 local elections and 1915 women received full voting rights.
Canada
Women's right to vote in Canada started in 1916 with Manitoba, Saskatchewan and Alberta followed by Ontario and British Columbia in 1917 and Nova Scotia in 1918. 1919 Saw New Brunswick followed by Prince Edward Island in 1922 and Newfoundland in 1925. The last province to grant women the right to vote in Canada was Quebec in 1940.
Great Britain
Such a reaction lead to some women taking a more hard-line attitude and in 1903, the Women's Social and Political Union was created by Emmeline Pankhurst. They became known as the Suffragettes.
She believed that if men would not listen to reasonable ideas, then women should use force to push for what they wanted – the right to vote. Their polices included the burning of churches, attacks on politicians, disrupting the day-to-day work of Parliament and, if arrested, going on hunger strike. Their campaign took them into the twentieth century – a century that gave women over 30 years of age the right to vote in 1918 and allowed them to stand for Parliament as MP's in the same year. In 1928, women were given the same political rights as men.
1893 First Women's right to vote in the United States
Colorado is the first state to adopt an amendment granting women the right to vote. Utah and Idaho follow suit in 1896, Washington State in 1910, California in 1911, Oregon, Kansas, and Arizona in 1912, Alaska and Illinois in 1913, Montana and Nevada in 1914, New York in 1917; Michigan, South Dakota, and Oklahoma in 1918.
The federal woman suffrage amendment, originally written by Susan B. Anthony and introduced in Congress in 1878, is passed by the House of Representatives and the Senate. It is then sent to the states for ratification.
1920
The Women's Bureau of the Department of Labor is formed to collect information about women in the workforce and safeguard good working conditions for women.
Aug. 26

The 19th Amendment to the Constitution, granting women the right to vote, is signed into law by Secretary of State Bainbridge Colby.
PIQ Positive Imperative Question. To you participate in Democracy? Do you vote. Not an election year, to you participate in the political process? Do you take democracy and voting for granted?
++++++++++++++++++++++++++++++++++++++++++++++++++++++++++++++++++
365 Days Of Gratitude. Your daily program of thanks.
DAY 74 Today we are thankful for our sons.

Today we are thankful for the blessings of having a son (and daughter too but we'll save that for another day).
So you're probably wondering isn't it father's day? Why aren't we doing fathers and instead are doing sons? Well it's simple, being grateful for your son (daughter too) is one of the best presents a father can receive. It also may be the most important thing they could ever share.
For those of you who have been following the Posithanks Blog, you will remember at the outset we said that the only days we would mirror society's calendar of special days is Earth Day and Earth Hour Day. All other days would be celebrated on different days. The rationale is two fold. One it doubles up on the days, ie: father's get two days, but mostly because too often with special days the whole process almost becomes a cript of what is expected, what was done last year and all the obligations of running to the store to get a Hallmark card many of the times on the day of. Which is not to say that many times families do put a lot of though into their special day… but as we know too often life is lived in the neutral and fullfilling obligations and going through the motions in a time impoverished world.
Son's Day
Why is it we have a father's day and a mother's day, but no grandparent's day or son or daughter's day? I guess you could go into the origin of each special day, but right now that is of no consequence. What's really important now is to know that a Son's day is just as or maybe even more important to hold. Everyone has a birthday and it is in fact another day to ratify the importance of your son's life, but again it's all to often lost in presents and parties. As they get older hanging out with their buddies becomes the norm. It could even be called father/son day…… leaving another for mother/son day and another two for daughters. You see PI (Positive Imperative) is all about more of this and less of that. More recognition…more honouring…. more one on one time…. more celebration…. more hugs…. more love…. and less of all of the above opposites and Neutrals and Negatives.
Son's vs Daughters
While both need their special day, likely if one needed a day more than the other it would be sons for sure. Most teachers, youth workers and youth psychologies will tell you that boys simply have a harder time growing up than girls. They quite often do not have the social or peer group connections that girls have (the many) and quite often unless they are the QB of the football team, only have a couple of good friends and many times cannot confide in those friends the same way that girls do. They hold too much in, and are given the old male axioms of chin up, don't cry and take it like a man…. even though they are still boys and quite often don't have the emotional tools or support network to work through tough issues like girls do. They're also far less likely to ask for help and don't communicate as well. These double expectations make it hard on our boys growing up and they grow up younger than ever before.
Father to Son
So as fathers we all want the best for our sons. We are in a constant battle with wanting them to be something great, living up to our expectations and not letting them be who they are, if they don't. We struggle with all the lines of communication (not being the best communicators either…. likely handed down from our fathers), and sometimes are the most reserved or inhibited at telling their son that they matter and are loved and are the most important thing in their lives.
Victor to Richard…father to son

So as this is father's day my greatest satisfaction will be in the gratitude I share to my son Richard for being our best boy! As he approaches the big 21st bd. I know that life has not always been easy on him and that being third in line, he may not have got all the attention that his older sisters got. You try to parent equally but it's likely more theory than reality as with your first born it's a 2 to 1 ratio and as you get more kids and spread your time all around ratios become 1 : 3 or 4 more often than not. Having said that I would like you to know Richard you are the joy of my life and I am proud of all that you have done and the many friends you have supported. You make a difference in all of your friends lives and your families too each and every day and I/We love you so much!
PIQ Positive Imperative Question. Have we accepted the lyrics from Harry Chapin's Cat's In The Cradle as the norm? When was the last time you made a special father son day? When was the last time you told him how special he is and how much you love him.
When was the last time you told him he made a difference? No Matter What… Do It Today!
From all of us at PI/PMI… You Make A Difference. Watch this life changing video and RESPOND!
For more on the blue ribbon campain click here.
Victor Sinclair PI/PMI Founder
Please take the time and share your thoughts and help inspire by clicking here.
+++++++++++++++++++++++++++++++++++++++++++++++++++++++++++++++++++
365 Days Of Gratitude. Your daily program of thanks.
DAY 73 Today we are thankful for our Gardens

Garden's come in all shapes and sizes with all sorts of different plants. They give us everything from food to beauty and make a world a richer place to be. Garden's can also be summed up by one of the greatest songs on the concept of gardening.
We say over and over again with Posithanks, that we continually select topics that easily fit into the category of things we take for granted. Gardens are yet another part of life that while we can quickly take in their picturesque view, seldom to we consider the planning and thoughtfulness that went into these gorgeous works of art. Plant selection, sematary, colour selection, plant compatibility, soil consideration, as well as the non organic composition, rocks and statues etc. and in some cases waterfalls and more.
When you see a beautiful garden be thankful for the labour of love because it is also a love of labour.
Inch by inch, row by row
Gonna make this garden grow
All it takes is a rake and a hoe
And a piece of fertile ground
Inch by inch, row by row
Someone bless these seeds I sow
Someone warm them from below
'Til the rain comes tumbling down
Pulling weeds and pickin' stones
Man is made from dreams and bones
Feel the need to grow my own
'Cause the time is close at hand
Grain for grain, sun and rain
Find my way in nature's chain
To my body and my brain
To the music from the land
Inch by inch, row by row
Gonna make this garden grow
All it takes is a rake and a hoe
And a piece of fertile ground
Inch by inch, row by row
Someone bless these seeds I sow
Someone warm them from below
'Til the rain comes tumbling down
Plant your rows straight and long
Thicker than with pray'r and song
Mother Earth will make you strong
If you give her love and care
Old crow watchin' hungrily
From his perch in yonder tree
In my garden I'm as free
As that feathered thief up there
Inch by inch, row by row
Gonna make this garden grow
All it takes is a rake and a hoe
And a piece of fertile ground
Inch by inch, row by row
Someone bless the seeds I sow
Someone warm them from below
'Til the rain comes tumbling down
'Til the rain comes tumbling down
PIQ Positive Imperative Question. Do you take the time and appreciate the many aspects of a garden,, including who planted and cultivates it?
Victor Sinclair PI/PMI Founder
Please take the time and share your thoughts and help inspire by clicking here.
+++++++++++++++++++++++++++++++++++++++++++++++++++++++++++++++++++
365 Days Of Gratitude. Your daily program of thanks.
DAY 72 Today we are thankful for change.

Change is one of those subjects you either embrace or run away from. Change has been with us since the beginning of time, and many people are either for change or against it.
Before you can be truly thankful for change, it's probably a good idea to understand the paradox of change.
Change, Two sides of the sword.
When I used to teach a module on change I first did an orientation on change to get my students really involved in the subject. Teaching students going into the music/technology industry I regularly told them that more changes in a week today than did a year in the 80s. On the other hand I also taught them larger knowledge worked ideas like the law of the harvest or the law of leverage, and told them that those laws or ideas will never change.
The Paradox of Change.
So based upon those two ideas there is also a paradox of change for our belief systems. One the one hand we often believe that things are always changing, and things never stay the same… houses get torn down and buildings go up, rules change, laws change, customs change. On the other hand we also hold a believe that things never change. Government never changes, the big power squeezing out the little guy never changes, people or human nature never changes, he'll never change and the list goes on. So the first step in being grateful for change is to understand that we often have diametrically opposed ideas and acceptance of change, and in their extremes they can't be reconciled easily.
Embracing Change
To embrace change is to accept change. Change just is. So while there is "a" truth to things never change, and it may be the norm in certain circumstances, that's all it is, and on the other side of the coin everything is always changing does not have to be a good or bad thing, it just has to be accepted that it is the norm.
Participating in Change
Be the Change has been the mantra for the LOHAS Lifestyles of the Health and Sustainability and Social Conscious movement for years. To be proactive in positive change is a core concept of the Positive Imperative. It falls out of our 3rd tenant If You Are Not Part of The Solution, then You're A Part Of The Problem. It also suggests that you don't have to accept change, if the change in not Positive, healthy or constructive for society. To continually use good fertile farming land for urban development has to be questioned as the balance for progress and shorter commuter distances has to be weighed against the idea that rich farmland is not an endless commodity.
Change resolution.
So having said all that, the first part of embracing change as mentioned is to accept that it just is. The more we hold on to the permanency of anything be it a way of life or our own life, the faster it slips away. When you know that thing will inevitably change: your children will grow up, you will get older, the way of life you have and the ten cent, dollar fifty or three fifty ice cream cone will never last then you will understand the importance of this large conversation you've been hearing about the importance of living and enjoying and being grateful for NOW. Then you will be grateful for change.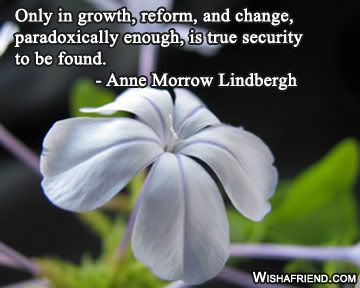 Change Quotes at WishAFriend.com
PIQ Positive Imperative Question Do you embrace change? Are you able to look at change in a new light and be grateful for it? Are you able to be proactive and accepting of change?
Victor Sinclair PI/PMI Founder
Please take the time and share your thoughts and help inspire by clicking here.
+++++++++++++++++++++++++++++++++++++++++++++++++++++++++++++++++++
365 Days Of Gratitude. Your daily program of thanks.
DAY 71 Today we are thankful for food that we eat.

Food has long been a topic of gratitude as many of the religions of the world encourage some form of grace as a ritual before a meal. More and more it becomes a once in a while thing to do for many families as they reserve that activity for major festive occasions like Thanksgiving and Easter.
Being thankful for our food in the secular world time has come.
In a secular world, many people have relinquished the ideas and rituals of their or previous generation's organized religion. It's almost as if many of the traditions get branded with the guilt by association label. Whether you are practicing an organized religion or not, should be seperate from some of the ideas that the bring forth. Especially if those ideas have merit.
Being thankful for the food we eat and the fact that it not only keeps us alive but in most cases give us a large source of hapiness is surely one of the most key things to be grateful for, if in fact we are to be grateful for anything. The marvelous ways fruit can flourish above the ground from apples to oranges, and the many ways vegetables can grow below the ground from potatoes to carrots.
Being thankful for the bounty we eat is also to acknowledge the hard work and dedication of those that make and prepare the food for us as well. A few weeks ago on Posithanks we dedicated a day to farmers, many of who work 365 days a year. If you are spiritual there is being thankful for the animals that provide us our food sources as well.
Food is responsible for our nutrition as it provides us the sustanence to flourish. Culturally it also gives a chance to explore the tastes and customs from other regions. When you put it all together being thankful for the food we eat each and every day, but also being mindful of its orginins and tastes will allow us to be more present and appreciate life more.
PIQ Positive Imperative Question How often to you say grace or give thanks for the food you eat. If you are a parent, do you teach the value of gratitude and pair it with food? Will you be thankful for the food you eat today, and when possible thank those that have helped the food find its way to your plate?
Victor Sinclair PI/PMI Founder
Please take the time and share your thoughts and help inspire by clicking here.
+++++++++++++++++++++++++++++++++++++++++++++++++++++++++++++++++++
365 Days Of Gratitude. Your daily program of thanks.
DAY 70 Today we are thankful for beauty!

Beauty is more than something asthetically pleasing…. we talk of inner beauty and other and indeed, beauty is also used in the context of out comes.
"Life is full of beauty. Notice it. Notice the bumble bee, the small child, and the smiling faces. Smell the rain, and feel the wind. Live your life to the fullest potential, and fight for your dreams." ~ Ashley Smith
Do you take the time to appreciate beauty?
Beauty is in the eye of the beholder. By it's very nature subjective. Can beauty be learned or is "just is"? We are conditioned by the "cover girl" and fasion industry and film to expect beauty to come in a certain package and for some reason we can agree to some degree and what beuty is when it comes to a famous movie star or singer like Carey Underwood.
However if we look for more beauty and widen our interpretation of beautiy do we see more beauty?
"For every beauty there is an eye somewhere to see it. For every truth there is an ear somewhere to hear it. For every love there is a heart somewhere to receive it." Ivan Panin
"Love of beauty is Taste. The creation of beauty is Art." Ralph Waldo Emerson
PIQ Positive Imperative Question Do you stop and consider beauty? Do you take the time to appreciate it?
Victor Sinclair PI/PMI Founder
Please take the time and share your thoughts and help inspire by clicking here.
++++++++++++++++++++++++++++++++++++++++++++++++++++++++++++++++++++
365 Days Of Gratitude. Your daily program of thanks.
DAY 69 Today we are thankful for Buskers

Buskers are those people who would rather entertain than anything else, they are often found at public gatherings and sometimes all they need is a suitcase and a hat.
Buskers fill the void of space or neutral, when there's nothing, and then there's entertainment.
Do you know who some of the most famous and succesful Busker are?
Musicians, jugglers, accrobats, comediens, and magic artists and illusionists have all donned their costumes/garb and sat down on a street corner and just started to perform. It takes a certain amount of courage to throw yourself out their and risk the scorn of the masses, but strangely enough it almost never happens. People seem to know that these performers have their heart and soul in their work and almost have an energy or karma of sharing their tallent and filling the void. It's almost like the Free Hugs video… one second there was cold shoulders and no eye contact and people hustling and bustling and then there was a guy with a free hugs sign that seemed to bring hope, energy and love to the void. Street Perormers and Buskers do the same. They fill the neutral or silence and create communication and emotion where there was none. They do it for free and they give it their all, if you contribute that's great but if not its still a date.
Famous Buskers?
Many stars have been rumoured to Busk at one time or another from Eric Clapton to Neil Young, poets like Leonard Cohen and comedians like Bob Hope and artists like the Blue Man Group. In Toronto the Bare Naked Ladies were famous for their Busking. You can find a longer list here.
The most famous or at the very least most successful Busker are certainly the creators of Cirque Du Soleil, as street performers in Montreal Que. downtown section of Saint-Michael were its creators Guy Laliberté and Daniel Gauthier, who have now entertained hundreds of thousands of people and indeed incorporated the roots of busking in their performances.
A clip from the International Busker festival in Denver a few years ago.
PIQ Positive Imperative Question Do you appreciate Buskers? Do you contribute to their livelihood. Have you ever thought of Busking?
Victor Sinclair PI/PMI Founder
Please take the time and share your thoughts and help inspire by clicking here.
++++++++++++++++++++++++++++++++++++++++++++++++++++++++++++++++++
365 Days Of Gratitude. Your daily program of thanks.
DAY 68 Today we are thankful for dancing.
Dancing is one of the most positive things you can do and we are grateful for how it makes us feel.
There are short-cuts to happiness, and dancing is one of them. ~Vicki Baum
Is there more to dancing than meets the eye?
If music is the universal language, then dance is the universal movement. There are counless styles of dance, from tribal, to square dancing, breakdancing, hip hop, free form, ballet, classical, and the list goes on. Since the advent of reality programs, next to music, reality dance programs have given modern dancing and dancers a voice of its/their own to inspire a whole new generation.
Dancing is a participation activity, but you don't have to be an expert to join, and while admitidly there is a difference between great dancers and the dancing challenged (see Steve Martin in the movie the Jerk), when it comes to dancing if you're having fun, nobody really cares. You can be centre stage in a bridal dance, or alone at home and doing your best Michael Jackson in the kitchen with the music cranked….. it's all about self expression, feeling good, and even some excersise in their (but let's keep that a secret :>) and for all of that we who dance are truly thankful.
Dance is the only art of which we ourselves are the stuff of which it is made.
~Ted Shawn, Time, 25 July 1955
I would believe only in a God that knows how to dance.
~Friedrich Nietzsche
Native dancing is very spiritual. Take a minute and learn some background of native dancing.
Nobody cares if you can't dance well. Just get up and dance.
~Dave Barry
PIQ Positive Imperative Question – Do you dance?
You can dance anywhere, even if only in your heart.
~Author Unknown
Victor Sinclair PI/PMI Founder
Please take the time and share your thoughts and help inspire by clicking here.
++++++++++++++++++++++++++++++++++++++++++++++++++++++++++++++++
3
65 Days Of Gratitude. Your daily program of thanks.
DAY 67 Today we are thankful for our sense of smell.
Our sense of smell can provide everything from safety to pleasure.
How many times a day do you consciously smell?
Posithanks is all about questioning the things we take for granted…..over and over again.
|In the beginning
ng
When we were children we used all of our senses…. all of the time……
We put anything we could in our mouths, we touched and looked at everything…and we smelled everything too.
It was a part of the joy and wonder of life
We learned that smell was great for wine connoisseurs.
And it was a great tool for a cook in the kitchen.
As we got older we quite often would use our sense of smell in obvious situations like being in a garde
n.
PIQ Positve Imperative Question
In our hustle and bustle of life…. how often do we walk right by beautiful smells and as the songs suggest forget to stop and smell the roses?
+++++++++++++++++++++++++++++++++++++++++++++++++++++++++++++++++++
365 Days Of Gratitude. Your daily program of thanks.
DAY 66 Today we are thankful for courage.
When we find people with courage they inspire us. When we find courage we inspire others and ourselves. Why don't more people find courage?
History of Courage
Courage has long been associated with the battleground and for good reason. One the one hand it takes courage just to put on a uniform. On another level it takes courage to go to a foreign land where driving down a road could end your life. Courage of battle while being fired upon is certainly part of battle as is the fear of being cour marshaled or killed if you run. The ultimate courage is the type of heroism seen in Forest Gump and lived in real life thousands of time where a soldier risks their life to save another.
Every Day Life
So how do we move from courage that seems so far away for most of us fortunate never having had to be in battle to our every day life. We'll the first step is to be aware and grateful for the many times we have an opportunity to witness courage in our every day life.
Many times we are oblivious of the feats of courage around us all the time. An immigrant who risked their life to get to the west, or to save their family, a clergyman fighting to accept and understand gay rights, a gay person "coming out", a police officer stopping a car with dark tinted windows……
Courage is all around us if we could but just see.
Courage, it would seem, is nothing less than the power to overcome danger, misfortune, fear, injustice, while continuing to affirm inwardly that life with all its sorrows is good; that everything is meaningful even if in a sense beyond our understanding; and that there is always tomorrow.
Dorothy Thompson
Courage and Role Models.
Many times we get to witness courage through role models that will educate us on how to over come our fears and embrace our courage. A few years ago I was fortunate to meet motivational singer and speaker and now author Cindy Ashton. She was never supposed to survive her heart problems as a child. If you read her story there have been a lot of things that she was never "supposed" to be able to do. Having over come adversity so often, Cindy chose to share her blessings and respond to life by sharing her successful approaches to over coming your every days fears which so many of us have, both in her speaking engagements, her music and in her new book Kiss Your Monsters Goodbye.
Creativity requires the courage to let go of certainties. ~ Erich Fromm
PIQ Positive Imperative Question. F E A R = False Evidance Appearing Real. Most of what we fear never happens. What elements of fear are you creating unessisairily and what is your plan to get rid of them. Do you need a larger plan of action and perhaps to study courage by getting Cindy's book? Who do you know who is a voice of courage? Will you study them?
+++++++++++++++++++++++++++++++++++++++++++++++++++++++++++++++++++
365 Days Of Gratitude. Your daily program of thanks.
DAY 65 Today we are thankful for people who insire us!

People who inspire us help lead us to the people we can become. They are the needed fuel along life's highway that boosts us into action. Today I'm thankful for Sonia Ricotti. Do you want to know why?
Well it's really simple. People who are congruent and share ideas to live a more positive life will always get my vote. Not only has Sonia written a book called Mastering the Law of Attraction Plain and Simple but she has spend years giving back including going to third world countries to administer love and humanity at ground zero.
Sonia shares some great ideas of how to leg to of some of your negativity. Although she did use the word Neutral (lol) don't misunderstand the message. You simply have to be proactive and positively respond to your circumstances while at the same time accepting them as what is. My good friend Sonia….
Bestselling author and motivational speaker Sonia Ricotti discusses how to "let go" of the negative things going on in your life and how to move forward and achieve the life of your dreams.
PIQ Positive Imperative Question. Who inspires you? Do you share those people and how they inspire you with others? Do you thank them for their inspiration?
+++++++++++++++++++++++++++++++++++++++++++++++++++++++++++++++++++
365 Days Of Gratitude. Your daily program of thanks.
DAY 64 Today we are thankful for Sunny Days!

Sunny Days conjures up feelings of warmth and pictures of out door recreation and fun in the sun and listening to Sunny music like the beach boys. If you were a child of the 70s you may remember the signature song for Sunny Days.
Ironically writing a blog of this nature, you begin to think of the Internet reality and that one person may be reading the post under Sunny Skies, another under rain and yet another in darkness. As the day goes on, all three of those people may change places.
"I've seen fire and I've seen rain, I've seen sunny days I thought would never end, I've seen lonely times when I could not find a friend, but I always thought I'd see you again" ~ James Taylor ~ Fire & Rain

The celebration of Sunny Days is a state of mind. Since the beginning of time Sun Worshipers populated the Earth and have in one way or another appreciated the fact that without a Sun there would be no us! Musically one of the best celebration of the Sun and Sunny Days took place in 1972 with a Canadian Band called Lighthouse hot on the tails of the Flower Power era and when brass was cool in rock & roll. A pre-video era adaptation of the music and video.
"Every street has two sides, the shady side and the sunny. When two men shake hands and part, mark which of the two takes the sunny side; he will be the younger man of the two."
Edward G. Bulwer-Lyton – 1803 – 1873.
Adaptation
"Every street has two sides, the shady side and the sunny side. When two people shake hands and part, note which of the two takes the sunny side: they will be the more positive of the two." VS
PIQ Positive Imperative Question. Sunny Days is a reflection of a lack of cloud cover but also a state of mind. Are you going to be grateful and make the most of your Sunny Days?
+++++++++++++++++++++++++++++++++++++++++++++++++++++++++++++++++++
365 Days Of Gratitude. Your daily program of thanks.
DAY 63 Today we are thankful for a bridges.
Any engineer will tell you that bridges are much more than meets the eye. Structural integrity is just one of the facets, aesthetics are another. If your a politician you'll say bridges cost a lot of money, if you're an Iron worker you will say bridges quite often cost lives. Most of the time we cross bridges and don't give them a second thought. Have you been thankful for your bridges recently?
What's In A Bridge?
Let every man praise the bridge that carries him over ~ British Proverb.
The bridge is one of the most often used metaphors in language, perhaps because of it's obvious symbolic nature. A bridge can be a link between two peoples or two cities or two countries. A bridge can span ideas and oppositie sides of an argument. It always stands at that symbol where if there were no bridge one could not close or cross the gap.
Architecturally there are some phenomenal bridges, some famous like the Brooklyn Bridge, the Peace Bridge of the Golden Gate Bridge and some less famous but none the less spectacular. The longest bridge in the world is the Hangzhou Bay Bridge in China just of 35KM long. There are four types of briges, Beam, Arch, Suspension and Cantalever.
The critical nature of bridges.
Everyone loves bridges when they work. Thousands of people cross thousands of bridges, but when crossing the Brooklyn Bridge seldom if ever give pause to consider 27 men died building it. When bridges don't work because of a lack of up keep or structural problems it also costs likes like the bridge collapsing in the Mississippi river killing 7 and injuring many more, so stop and consider when all is going well it's no small miracle.
The Beauty of a bridge.
Few architectural creations come close to the fascination we have with briges both large and small. Their sheer beauty and magestic nature are an amazing feet of accomplishment. All considering we have a lot to be thankful for the bridges we travel, their builders and designers.
PIQ Positive Imperative Question. How many bridges will you cross today?…. this week? Will you give a quick pause to reflect on what went in to making that bridge safe?
PI/PMI Founder Victor Sinclair
++++++++++++++++++++++++++++++++++++++++++++++++++++++++++++++++++
365 Days Of Gratitude. Your daily program of thanks.
DAY 62 Today we are thankful for a great new week

52 times a year we are reminded that we have a new start with a new week to embrace. The first place to start is simply being thankful that with each Monday we approach a new opportunity to get on track, live our goals and make the best of our future.
"Nobody can go back and start a new beginning, but anyone can start today and make a new ending." Maria Robinson" Are you going to make the best of this opportunity?
What about your week?
We have all heard I Don't Like Mondays and TGIF to opposite ends of the same book ends which really helps to negate 5/7th of our lives or at least 4.75/7ths if you consider coming alive Friday night. It's really a silly philosophy and one that sets us up to put our selves in Neutral and want to fast forward through live like we could fast forward a commercial on tv or video.
Every thing we do and every attitude we embrace is a choice.
This week you have a clean slate, a new opportunity to be the best at work or school or simply in life. To make the most of all those goals and ambitions you have had. Don't procrastinate any longer. Procrastination is the neutral that is both the thief of time and life.
PIQ Positive Imperative Question What are you going to set out to do this week. Be the best, be the first be on time, be kinder, be more diligent, be more giving, be more alive!
What are you going to do? Do the best, do arrive on time,, do kind things, do dilligence, do give more, do be alive!
Then you will have the life you're looking for. BE –> DO –> HAVE !
In order to Be a great athlete, Do the things great athletes do and you will have the life of a great athlete.
+++++++++++++++++++++++++++++++++++++++++++++++++++++++++++++++++++
365 Days Of Gratitude. Your daily program of thanks.
DAY 61 Today we are thankful for teachers!

Teaching is an admirable and honourable profession. I greatly admire what they do because what they do is not an easy task. Everyday they make an impact on youths today who will become the leaders of tomorrow and then shape our world for years to come. Did teachers make an impact like this?
In elementary school, there was one teacher who left an unforgettable impression on me. She had a signature style: dressed in black from head to toe and deep red painted nails. Her smile lit up the whole room, and you could feel the warmth, joy for life, and enthusiasm that she radiated from her being. Right away you knew this was a woman who is in love with life! In grade five, we transformed our class into a storyteller' cafe. Each of us had to get in front of the class and tell our version of a classic fairytale. Then we invited other classes to come and hear our stories. I still remember those moments so vividly. As a storyteller, it was riveting to hold their gaze and take them on a journey to another world.
In high school, I remember Mr. Handrigan, my grade nine music teacher, and two math teachers, Ms. Millette and Mr. Sloan.
Mr. Handrigan taught me the importance of discipline. He taught me that without discipline, my talents would not go very far, in fact I'd be cheating myself of becoming the best I could ever be, not just for myself, but in serving others as well. It was difficult coming to school in the early morning or after class for an extra hour to master playing the trombone. After a year, discipline became a part of me, and I now apply it to maintaining healthy habits that will keep my body strong for years to come.
Mr. Sloan, my grade 12 math teacher, taught me that making mistakes is an inevitable part of learning and growing, but he also added the importance of learning from other people as well. "You don't have all the time in the world to make all the mistakes so learn from everyone else's."
Since then I've learned and I am still learning the art of listening. When someone opens their heart to us, it is amazing what lessons we learn and the intimate connection that is created in that moment.
Back then, I perceived tackling grade 12 advanced math as the equivalent of conquering Mount Kilimanjaro. However, Ms. Millette, another incredible grade 12 math teacher, shared with me a simple phrase that shrunk that mountain into a molehill. She said, "It's challenging to do but it's not impossible to do."
Teachers…..
First posted on 12 Sep 2007 by comey
http://nursyahida.blogspot.com/2007_09_12_archive.html
Teachers,
getting us ready for our future,
we get mad, cry, yell, laugh,
and have some of the happiest moment we could ever experience with our teachers.
If anybody deserves to be recognized, it is our teachers…….
But no trophy or awards could ever express our gratitude.
The best gift that we could ever give our teachers is to graduate and succeed in life.
That's why they are here today and have dedicated their whole life to teaching children who are special, smart, gifted, tall, thin and husky.
That is exactly what a child is to a teacher, and that's why we can touch the sky, and when, God willing, we sometimes go beyond the moon.
Thank you for being there through the good times…
and the bad,
Thank you for being there to encourage my dreams….
and my crazy ideas,
Thank you for catching me…
before I fell down,
Thank you for being there when I needed you…
and even when I didn't,
Thank you for all the great memories…
and the bad,
But most of all… thank you…
For being the best teachers!
PI Gratitude Action of the Day
Who are the teachers that have made a positive impact on you? Why not take a moment to express your gratitude towards them with a gift that expresses your heartfelt thanks for their presence in your life. Another way to express our gratitude is to share the lessons we received from our teachers and share it with others so that they may benefit as well.
With gratitude,
Sharon Torrenueva
PI Blogger
+++++++++++++++++++++++++++++++++++++++++++++++++++++++++++
Comments
comments